Parliamentary Friends of Carers – Focus on Work and Care
30 June 2017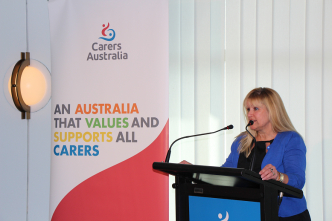 Carers Australia recently co-hosted a Parliamentary Friends of Carers event at Parliament House where guests were addressed by Helen Johnson, who is a carer and a brilliant example of someone who has been able to maintain a career alongside her caring role.
Helen spoke about how working for an organisation that provided her with flexible working conditions had benefitted her and her family while at the same time retained her as a valued employee. By becoming carer-friendly workplaces, businesses will improve their future sustainability, benefitting themselves, the community and the wider economy. Carers Australia's Work and Care program provides a guide and resources to both employers and employees on how to achieve this.
With over 2.7 million carers in Australia, research shows that 1 in 8 employees are in a caring role. These numbers are set to increase and the need for unpaid care will grow. By 2027, it is expected that over a fifth of Australia's population will be aged over 65yrs.
Parliamentary Friends of Carers co-convenors, Craig Kelly MP and Sharon Claydon MP hosted the event which was also attended by Assistant Minister for Social Services and Disability Services, the Hon Jane Prentice MP.  The Minister acknowledged the importance of carers in Australia and paid tribute to the contribution they make to their families, communities and the economy. Along with peak body representatives, academics and carers, members of the Australian National Young Carer Action Team (ANYCAT) also attended the event.